0 % EMISSIONS, 100 % DRIVING PLEASURE.
Developed for electromobility – drive train and technology in the BMW i3.
Few things are as captivating as the aura of a new era. Where not long ago there was engine noise, now the power is put down almost silently. Suddenly, downtown dynamics become far more relaxed. Because BMW i has systematically reshaped electric mobility in a new and sustainable way. The BMW i3, for example, is the first car to be developed entirely for electric driving.
Read more
DRIVER ASSISTANCE SYSTEMS.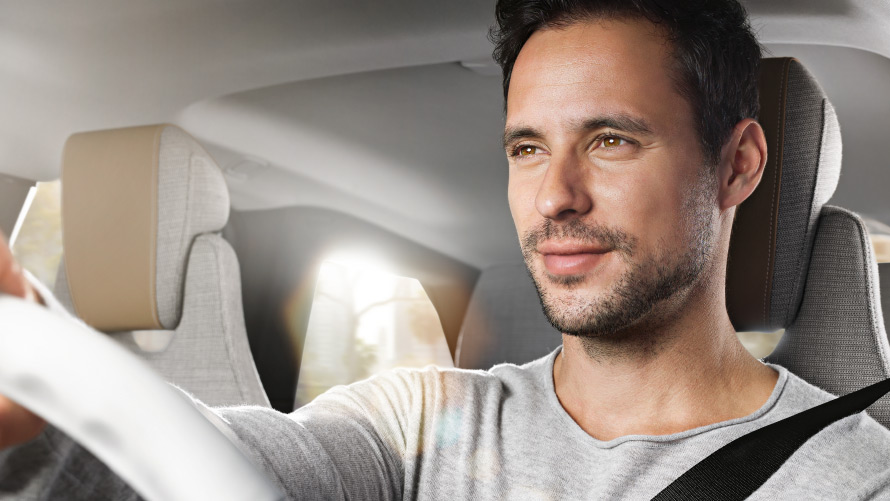 DRIVER ASSISTANCE SYSTEMS.
A variety of innovative driver assistance systems in the BMW i3 not only makes driving a pleasure but also ensures worry-free parking. With the Driving Assistant Plus package, the BMW i3 will warn you about collisions and is able to automatically maintain speed and distance in city traffic and traffic jams. In motorway tailbacks, the traffic jam assistant even partially takes over steering duties. The Parking assistant makes child's play of parking – fully autonomously, if desired.
Driving Assistant Plus

The optional Driving Assistant Plus includes a comprehensive package of innovative driving assistant systems that make driving in the BMW i3 especially safe and comfortable. From 0 to 140 km/h, the Active Cruise Control with Stop & Go function maintains a constant distance to the vehicle in front and regulates the speed, even until the BMW i3 has come to a standstill. In motorway tailbacks, the traffic jam assistant can control the BMW i3 autonomously up to a speed of 60 km/h. This enables your BMW i3 to keep in lane, provided that you keep one hand on the steering wheel. The approach control warning with light city braking function detects potential risks of collisions with vehicles, while the person warning with light city braking function reacts to the upcoming possibility of collisions with pedestrians, providing that there is sufficient daylight. Speed Limit Info shows the respective permitted maximum speed in the instrument combination.

Parking assistant package

The Parking assistant package offers all-round assistance for especially easy and worry-free parking: with Park Distance Control, rear-view camera and the Parking assistant, not only is convenient parking by the driver possible, but also a fully-automatic option – where the BMW i3 accelerates, brakes and steers itself – is available too.
Fuel consumption and CO2 emissions.
Power consumption and CO2 emissions for the BMW i3 (60 Ah):
Fuel consumption in l/100 km (combined): 0
CO2 emissions in g/km (combined): 0
Power consumption in kWh/100 km: 12.9

Power consumption and CO2 emissions for the BMW i3 (94 Ah):
Fuel consumption in l/100 km (combined): 0
CO2 emissions in g/km (combined): 0
Power consumption in kWh/100 km: 12.6 / 13.1*

Power consumption and CO2 emissions for the BMW i3 (60 Ah) with Range Extender:
CO2 emissions in g/km (combined): 13
Power consumption in kWh/100 km (combined): 13.5
Fuel consumption in l/100 km (combined): 0.6

Power consumption and CO2 emissions for the BMW i3 (94 Ah) with Range Extender:
CO2 emissions in g/km (combined): 12
Power consumption in kWh/100 km (combined): 11.3 / 11.9**
Fuel consumption in l/100 km (combined): 0.6

* Wheels cluster 2: 20'' Styling 431
** Wheels cluster 2: 20" winter tyres

The figures for fuel consumption, CO2 emissions and power consumption depend on the wheel and tyre sizes selected.

The driving range depends on a variety of factors, especially: personal driving behaviour, selected route, weather conditions, usage of heating/cooling and preconditioning.

Further information about the official fuel consumption and the official specific CO2 emissions for new passenger automobiles can be found in the 'New Passenger Vehicle Fuel Consumption and CO2 Emission Guidelines', which are available free of charge at all sales outlets and from DAT Deutsche Automobil Treuhand GmbH, Hellmuth-Hirth-Str. 1, 73760 Ostfildern, Germany